Deprecated
: Non-static method StringParser_Node::destroyNode() should not be called statically, assuming $this from incompatible context in
/web/htdocs/www.binaura.net/home/stc/fp/fp-plugins/bbcode/inc/stringparser.class.php
on line
358
Procedural properties are ancient problem solving techniques in communication, art, crafts and all type of human activities. We can see its incarnations in everyday life, from beautiful handmade indian rangolis to formalised design practices, mathematics, geometry, music, architecture and even pure code language. This workshop is dealing with Procedural Drawing. Why procedural?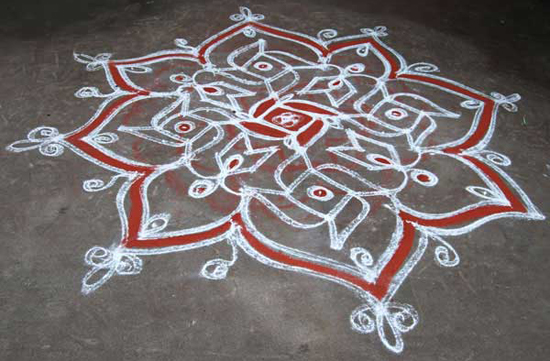 Rangoli, South India
Media and technology has an overwhelming relationship with our cultural society. Stream of events, speed of information sharing growing rapidly, it is hard to catch up with the latest directions of specific areas of tools, art and technology. New social contexts, cultural interactions arise day by day. These days designers should focus and reflect on the here and the now and have an overview on the current methodologies, design practices. We can always learn and adapt new, short term, overhyped technologies, but it is much harder to grasp the underlying phenomenons, ancient design decisions, the human factor. This workshop is about to catch these properties under the hoods.
The language of the workshop is pseudocode. There is no specific type, no predefined syntax, we do not rely on any computers, function libraries, we use only pens, lines, papers, logic, repetition, rules, process. We are following the path that many philosophers, engineers, inventors, mystics have been followed before us: think and draw.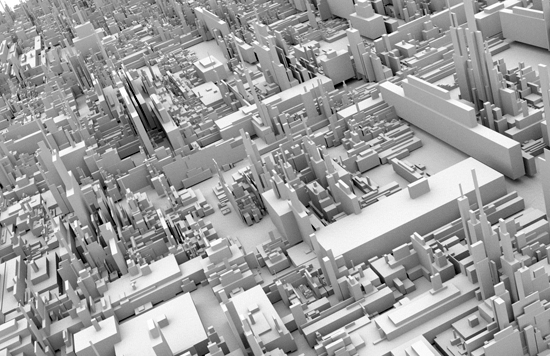 3d L-system made by Sebastien Parody
A very beautiful procedural example is the system made by Aristid Lindenmayer who was trying to describe complex biological and natural growth with a simple set of rules. This system is named after him. He also wrote a really inspiring book on "The Algorithmic Beauty of Plants" (pdf link). He wanted a way to test his theory about the growth pattern of a particular type of algae. His theory stated that the cells of this algae could be in one of two states: growth or reproduction. An algae in the growth state eventually grew into the reproduction state. An algae in the reproduction state eventually divided into two cells, one of which was in the growth state and the other in the reproduction state. Lindenmayer's grammar system proved a fantastic method for proving his theory. What Lindenmayer could not have predicted is the incredible usefulness of his system in many other areas, both in biology and in mathematics.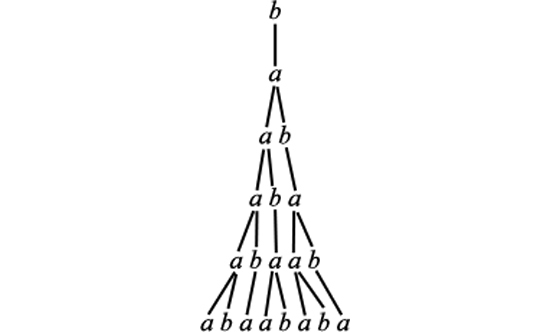 Basic Diagram of the Lindenmayer System
A Lindenmayer grammar is fully defined by an initial axiom and a set of one or more transformation rules. The initial axiom consists of a "string" of characters (e.g., alphabetic letters, punctuation, etc.). Each transformation rule gives a set of characters to search for in an axiom, and a set of characters to replace the original characters with. Applying all of the transformation rules to the initial axiom produces a new axiom. The rules can then be applied to this second axiom to produce a third axiom. Applying the rules to the third axiom produces the fourth, and so on. Each application of the transformation rules is called an iteration of the grammar.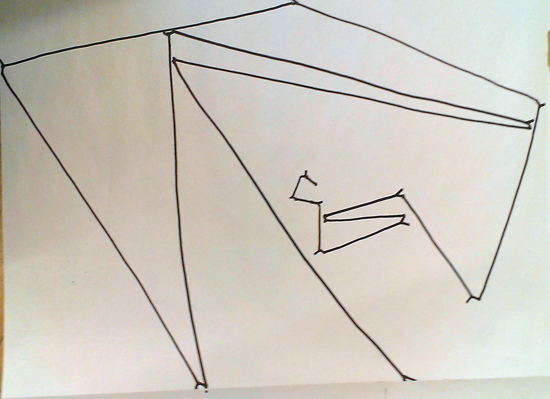 Pen Drawing from the Course: Marcell Torok gave instructions to synchronize your length of line with the time you are breathing in and breathing out
Another interesting aspect of procedural, algorithmic thinking is something that we can call the "stage-analogy". As Rohid Gupta (Fadereu) refers to the analogies between stage, performance & programming: "As much as our machines, we have become the processors of information, but we do not read text and instructions line by line as computers do. We scan in less than a blink and get an overall visual sensory pattern - like the notes in a musical chord, or the Fourier Transform of a rich spectral signal from atomic emission, we break it down in a subconscious way." Actors, performers are acting based on predefined set of rules, be it improvisational or fully, "strictly" followed algorithms.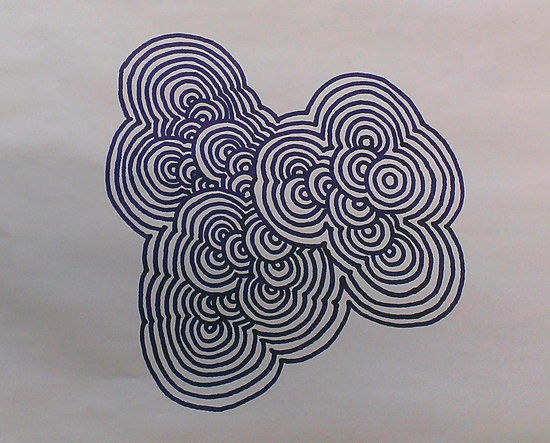 Pen Drawing from the Course: Attila Somos was experimenting on how to formalize & define recursion
Visual arts started to adapt these concepts with the rising of the Dada movement in first decades of the twentieth century: artists, performers were giving instructions, pseudo codes for the interpreting (compiling) their piece. Like musical notations, which are originally interfaces for representing different events that are distributed in time, drawings, visual arts also reached a state where the liveness or the actual "happening" of the concept is separated from the thoughts aka the software. Fluxus in the sixties, conceptual artists, Sol Lewitt, Miklos Erdely with his creative drawing workshops and conceptual works also continued the tradition.

This tradition is widely used and democratized today, since we are working with software separated from hardware, we can find this concept embed very deep in our everyday life. You can see all the works (rules are in hungarian) from the course here. The workshop was held at MOME Media Design, 2013.